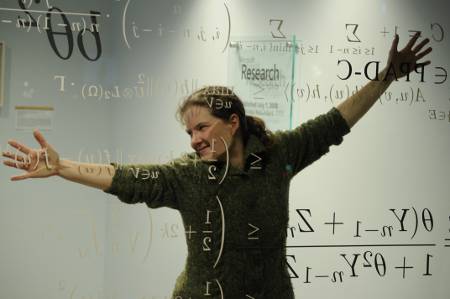 I'm a number theorist, and, in Dyson's classification, a frog. I enjoy simple-seeming questions that lead to a richness of structure. Areas of interest include elliptic curves, Kleinian groups, algebraic divisibility sequences, Diophantine geometry, arithmetic dynamics, and quadratic and hermitian forms. I am especially interested in cryptography, including elliptic-curve and isogeny-based cryptography and post-quantum lattice-based cryptography, as well as quantum algorithms, in part for the surprising way mathematical structures can have an outsize influence on human affairs. I enjoy problems that involve experimental, algorithmic, and especially visual mathematics, using a computer and other tools. I am developing a mild obsession with mechanical computing machines. There's a great deal of hidden beauty in number theoretical problems waiting to be illustrated.
You can find my CV here.
Recent News
Due to COVID-19, I've been uploaded to the cloud and am not planning any travel in the near future (fall 2021). I'll see you on zoom!
I have a sabbatical during 2021-2022, generously supported by the Simons Foundation.
Thank you to the AWM for the great honor of being named an AWM Fellow.
It was a great honour to be recently featured as part of a webinar series with The National Academies, along with Jordan Ellenberg and moderated by Terry Tao. You can watch here

.
A Brief History
Birth of our son, Zahav Wise, 2017.
Birth of our son, Yitzhak Wise, 2013.
NSF Postdoc at Stanford University, 2011-12.
Married to Jonathan Wise, 2010.
NSERC/PIMS/NSF Postdoc at Simon Fraser University and the Pacific Institute for the Mathematical Sciences at the University of British Columbia, 2009-11
NSF Postdoc at Harvard University, 2008-09
Ph.D. under Joseph H. Silverman at Brown University, 2008
Intern, Microsoft Research, under Kristin Lauter, 2007
M.Sc. Mathematics, Brown University, 2003
B.Math. Pure Mathematics, University of Waterloo, 2001
Camper, PROMYS, 1996 & 1997